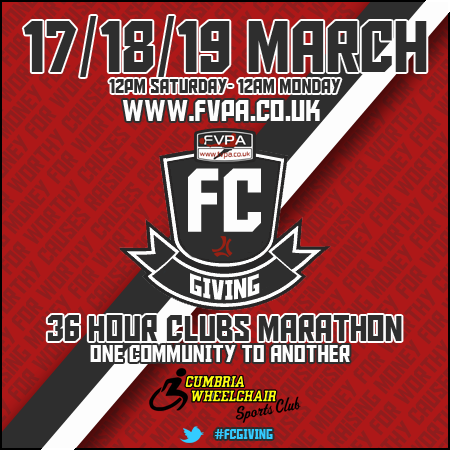 Massive well done to Bateson, kept going for 43 hours ! Many thanks to everyone who donated time and money during the event. Fantastic Community spirit for all those involved.
After seeing this done a while ago by the FIFA "Skillers" I've always wanted to do something along these lines but for a little bit longer. They played for 24 hours with people from the community jumping in left right and centre to help them complete their objective of getting people to donate to their chosen charity. Obviously with us being a big community and have fantastic support from our partners and EA themselves I thought its about time we did something similar for something close to home for some of our members. FVPA Mark has visited Cumbria Wheelchair Sports Club through his community work and is close friends with one of the volunteers who give a lot of time to help & coach disadvantaged people in Carlisle and the surrounding areas. So its only fitting that we have chosen them to receive all money raised by this event.
Cumbria Wheelchair Sports club is a new club that provides wheelchair sports to both disabled and able bodied people alike. We have members who travel from all over the North of England and Southern Scotland and ages range from 6 – 65. Prior to the club starting up our members had to travel hundreds of miles each week to take part in the sports they love. Many sports are available at the moment including wheelchair basketball, wheelchair tennis, wheelchair tag rugby, athletics and wheelchair badminton. We have progressed in two years to having Cumbria's only Wheelchair Basketball team which is going from strength to strength and sits at the top of the division that they play in. Pathways have also been provided for members to progress from grassroots to international level; having some ex GB players and now having juniors that are progressing towards playing internationally. The club as a whole is used as an example of good practice for others clubs by disability sports governing bodies. This is due to the fabulous work that has been achieved, in a very professional way in such short period of time. This area of the UK has been desperate for development of disability sport this is shown by its huge success. We do have a huge gap though that we now feel ready to fill, through developing a powerchair football team. Football will help the most severely disabled members of the community to be able to access sport; something that most of them will never have been able to do. Powerchair football will then give them the opportunity to play a fast action, adrenalin pumping game that is taking off in a huge way in the UK. Football is a universal game that should be available to all members of society and this is a truly fabulous way to do it. We need help to be able to let football touch the hearts and lives of our members.
Fulll Information can be found here: Click Here